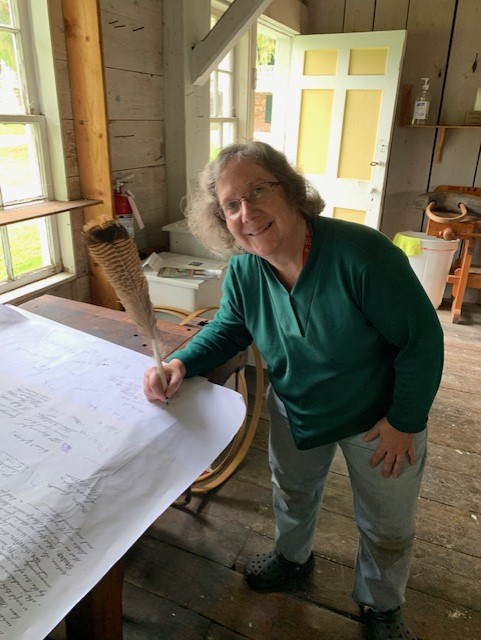 Meet Gail Hunnington Marks, one of our gardeners. She was working in the garden and wanted to see the 225+ year old loom. She's a retired art teacher from Lowville, and has her own loom. She has generously volunteered to "rework" ours and make it usable for demonstrations, etc. if we ever wanted to. (Which we do!!) Also, she is signing our Declaration of Independence, which will be sent to the 250th celebration of the Boston Tea Party, and she wrote a tiny bio because her relative actually signed the real one!!!!!
---
Our annual Online Auction will be starting on September 21st and running through the 26th. Thank you very much to all of the wonderful friends and businesses that are currently donating for our fundraiser. Visit the Adirondack Asset Auctions website to sign up so you are ready to join in the bidding fun!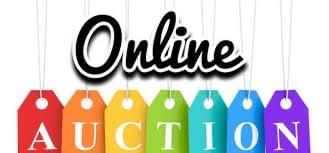 ---
Due to the weather, our Outdoor Movie Night has been cancelled again. BUT.... we had a great time with Mary Ellen Platz doing our Twas Kids Yoga and Games!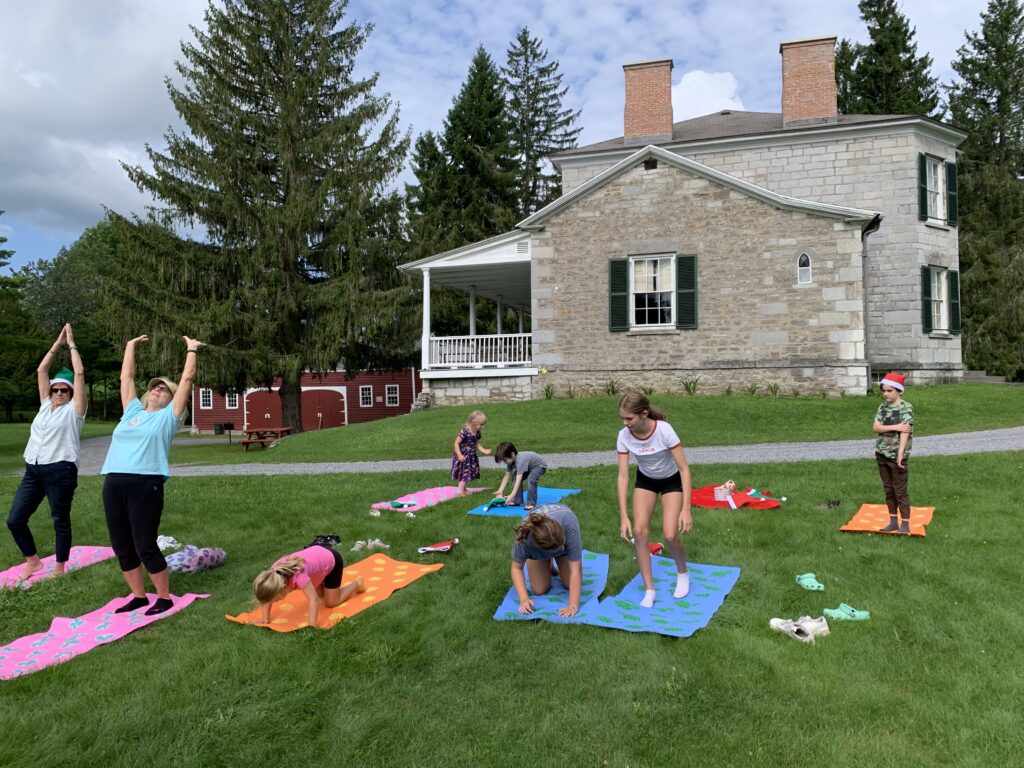 ---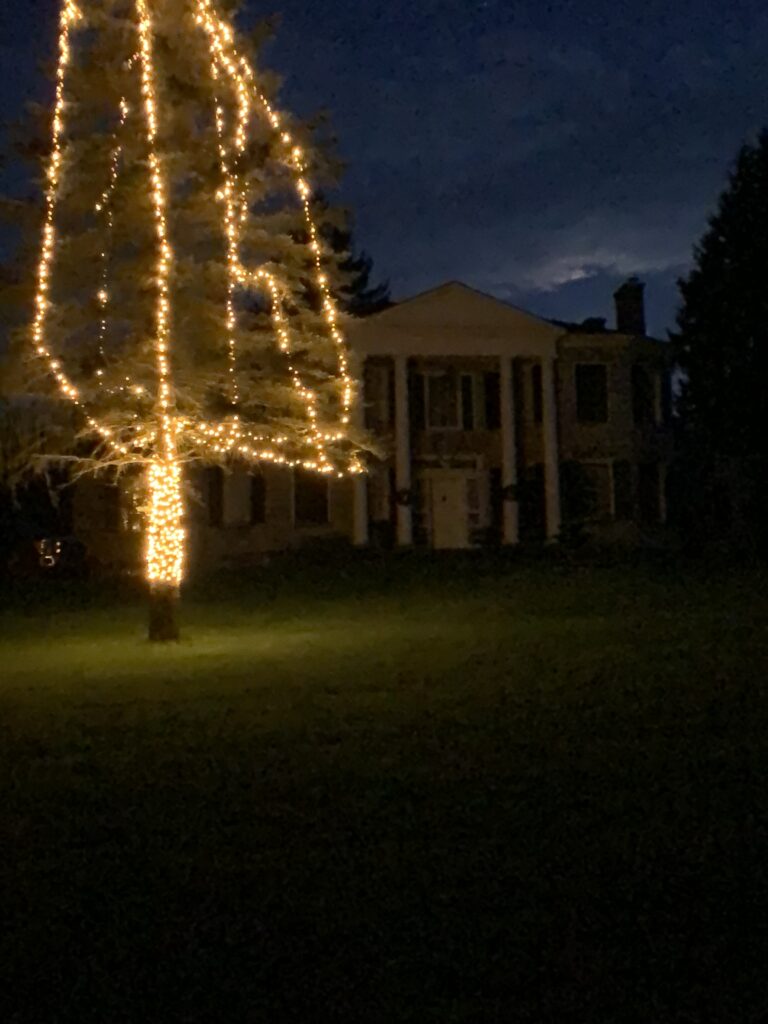 The Week of Twas has officially begun! The big blue spruce on the front lawn now has Christmas lights installed. Thank you to Derek Stewart and family for doing the work, and East Road Rentals for the loan of the 45' lift. Come and join in the fun!!!
---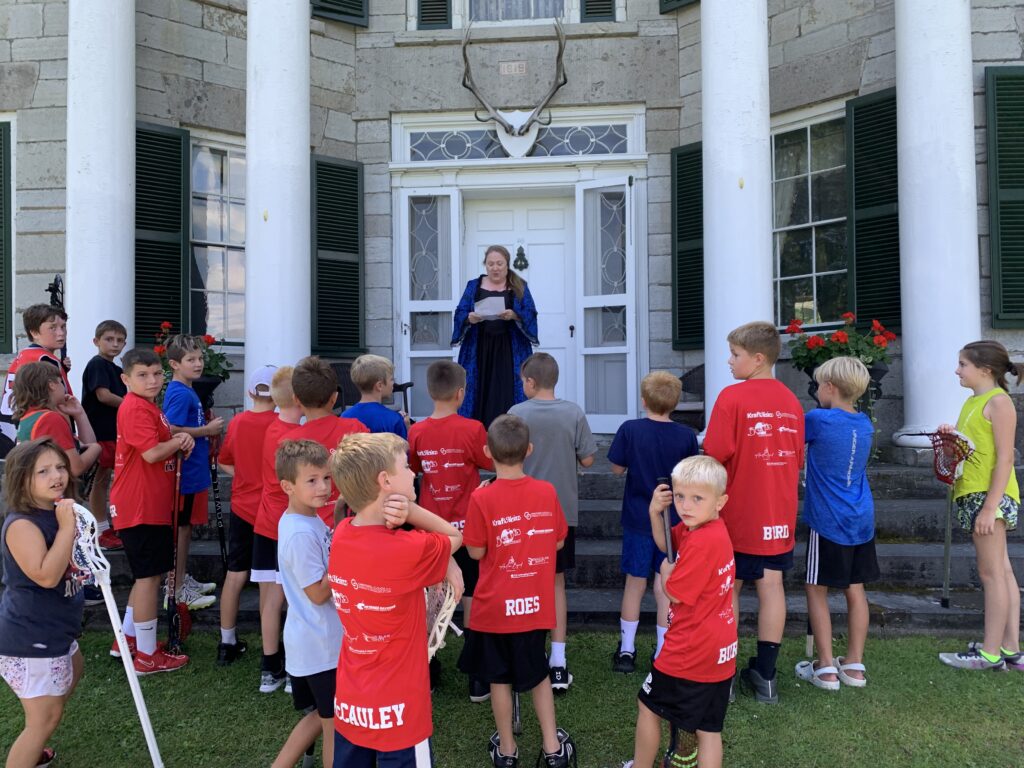 Our 1st Annual Lacrosse Shootout was a great success! Thanks to the 20 participants and their families for coming and helping us celebrate the sport of lacrosse and the Hall's connection to the Oneida Nation. Our winners were - Age 7 and under: 1st place Oliver Barker, 2nd place Drew Lucas, 3rd place Chase Roes. Ages 8 and 9: 1st place Jayse Ellis, 2nd place Bradley Waite, 3rd place Jackson Peters. Ages 10 and 11: 1st place Cullen Bedernik, 2nd place Maddox Byrd, and 3rd place Chandler Coffman. Enjoy this short video of our fun day! Lacrosse Shootout 2023
---
We had a wonderful "Colonial Color Run and Costume Contest" at the Hall on July 30th. Colonial garb was encouraged (white wigs, tri-cornered hats, time period glasses, etc.) and participants were "colored" with red, white and blue! Participants were also encouraged to also bring some loose black tea to be included to our donation to the 250th Anniversary of the Boston Tea Party. (The Boston Tea Harbor Museum is having a 250th celebration and "dumping tea" in the harbor to commemorate it so we will be collecting for the rest of the summer.) We even had some quill pens to use to put their "John Hancock" on a poster for it. Enjoy this short video of our fun filled day! Colonial Color Run 2023
---
The 2023 Father's Day and Cruise-In was very successful. Check out this link of the Channel 7 News segment! 2023 Father's Day event
---
We had a wonderful time with John Rogers and his wife as we learned about bluebirds and their habitats. We had a nice turnout, and MANY bluebird house kits went home to be built and installed. Our bluebird population is in great hands with this co-founder of the NYS Bluebird Association!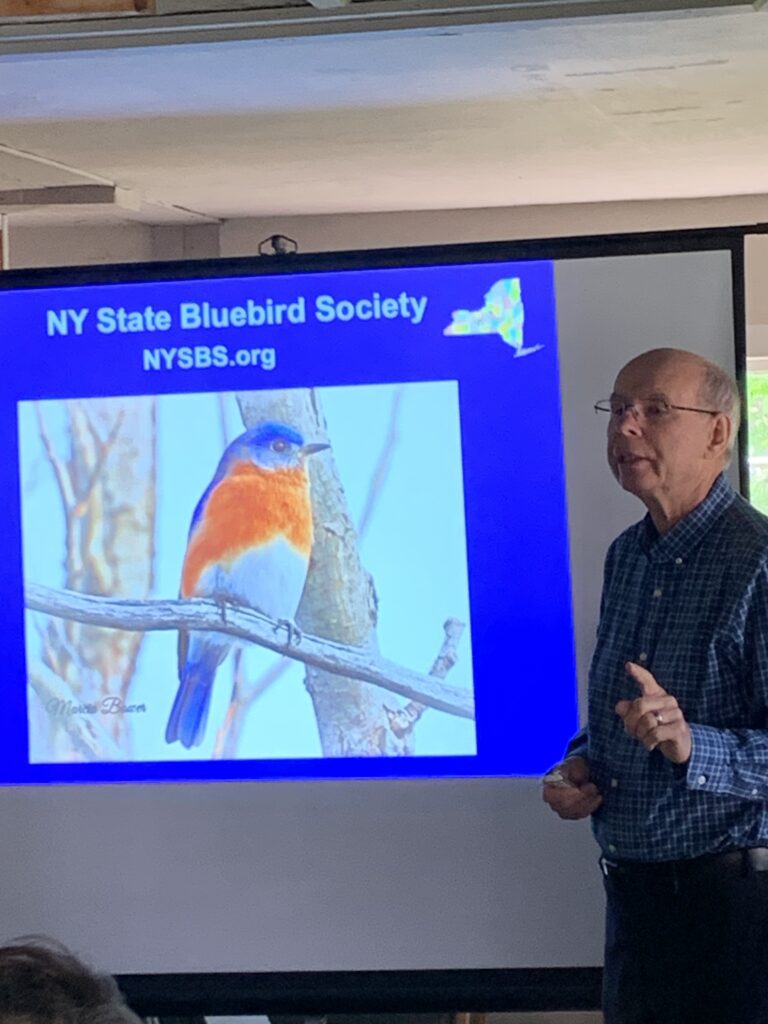 ---
We are pleased to announce that the new monument, which marks the beginning of the Veterans Memorial Path, has been installed. Thank you to Steven Fox from Fox Den Monuments for his assistance with this project. A dedication ceremony will take place later this summer. The monument design was inspired by the historic marker in St. Paul's Churchyard in New York City where William the Purchaser, his spouse and parents are laid to rest. Visitors to the Hall are encouraged to enjoy a tranquil walk on the path and enjoy the view!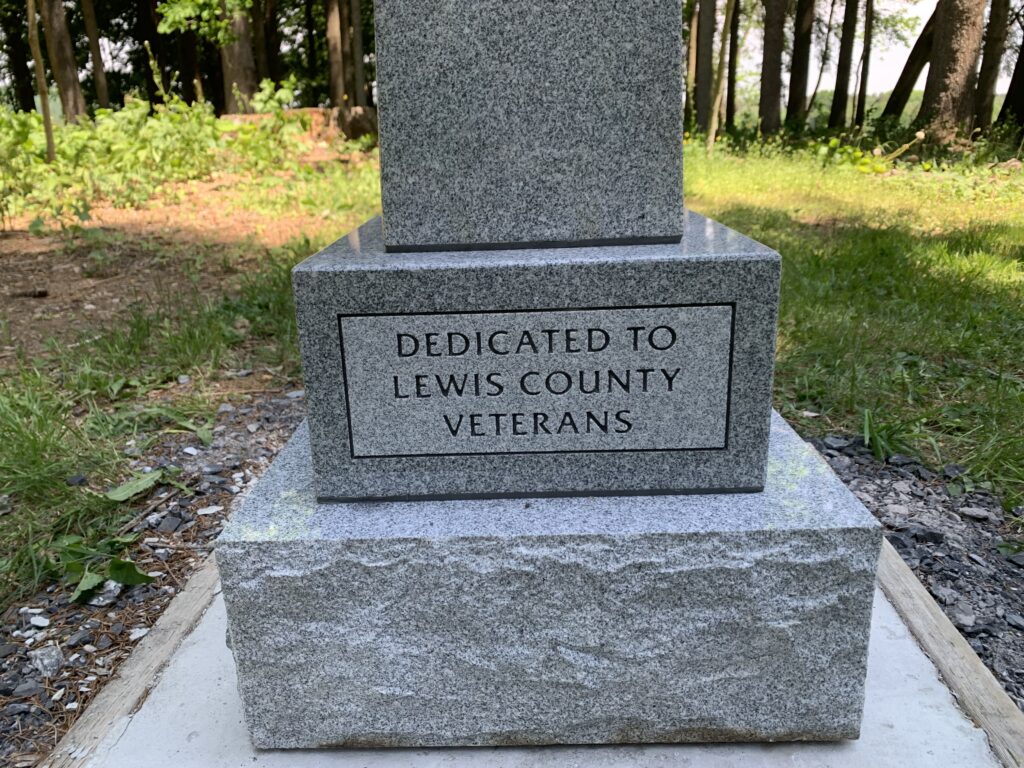 ---
The Hall is officially decked out for Memorial Day! Thanks to everyone who is working so diligently to get it ready for opening day on Wednesday, May 31st. The flag was officially raised by our very first Family Challenge winner from last summer. Kellie Stewart was the first one to complete the Family Challenges so she had the honor!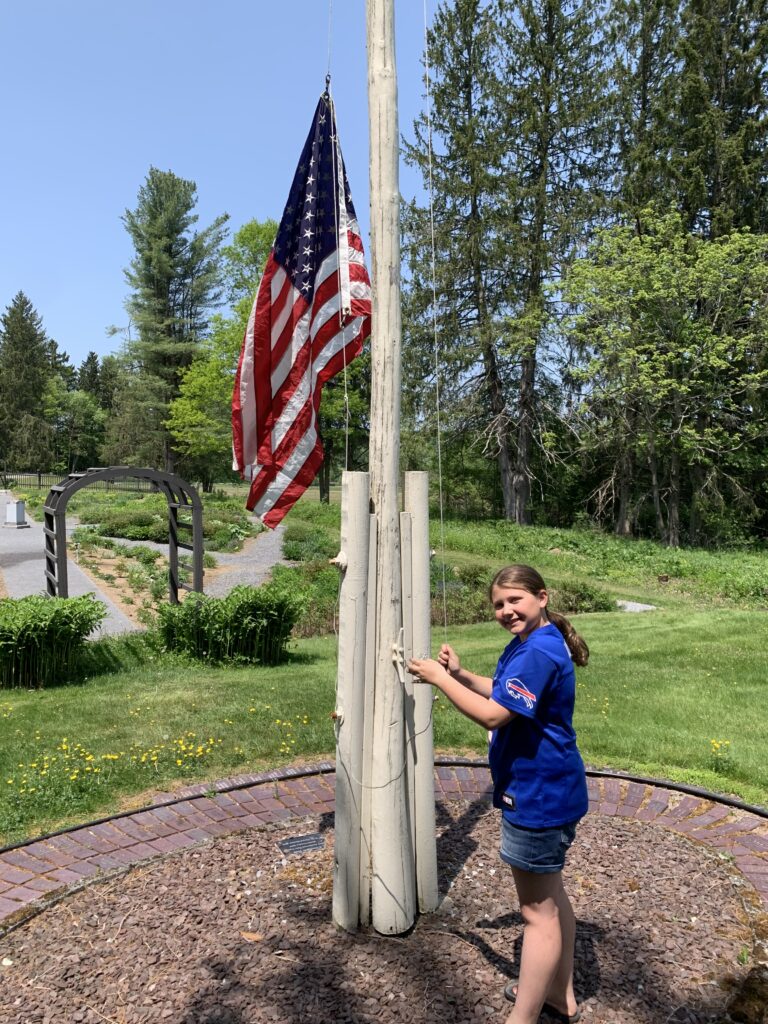 ---
We are so very grateful to have some of the South Lewis FFA members volunteer at the Hall! Thanks for the wonderful help, and especially with the heavy pig scalder in the herb garden!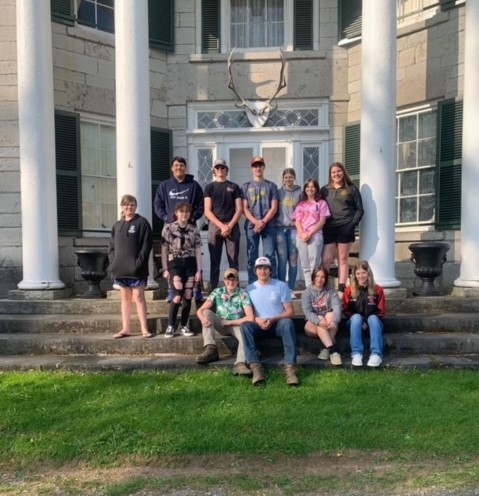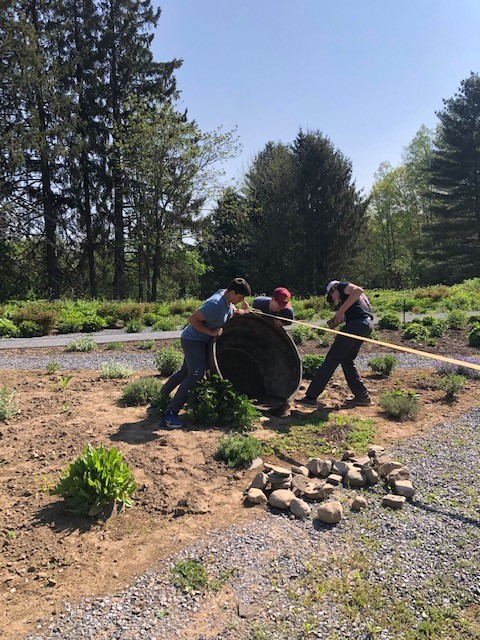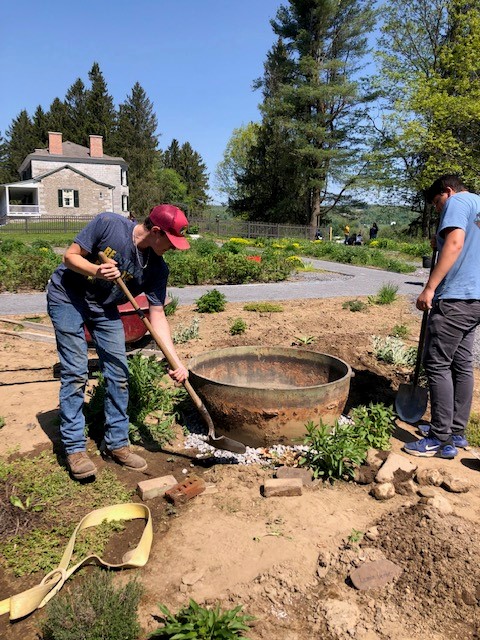 ---
New Pond Trail Completed!
Stop at the Hall to see our new pond trail. The trustees and other volunteers have been working hard to rejuvenate the pond area. Soon we hope to have new benches and also some grass seed sown thanks to Lewis County Soil and Water. We are working hard on the grounds to get us ready for our 1st Annual Colonial Color Run in July! Click here to see the New Pond Trail from start to finish.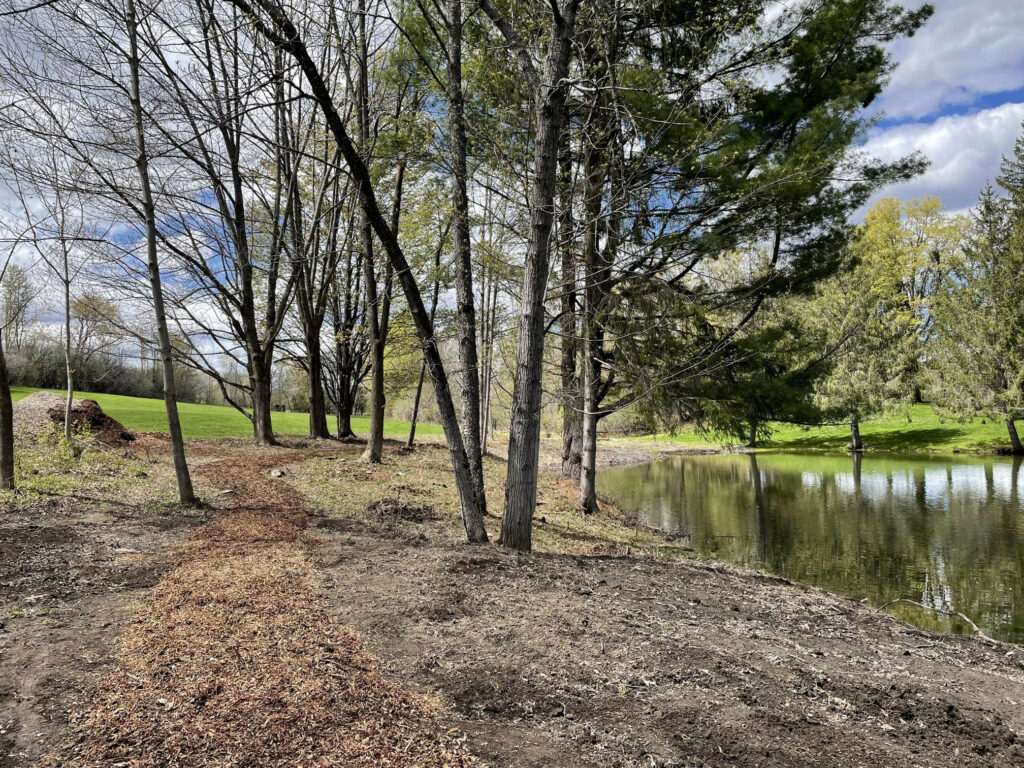 ---
We had a cute little visitor at the Hall! Mike Stewart, took this photo of an owl huddled under the front portico to keep out of the rain. (Must be the owl heard we were opening soon, and didn't want to miss out!)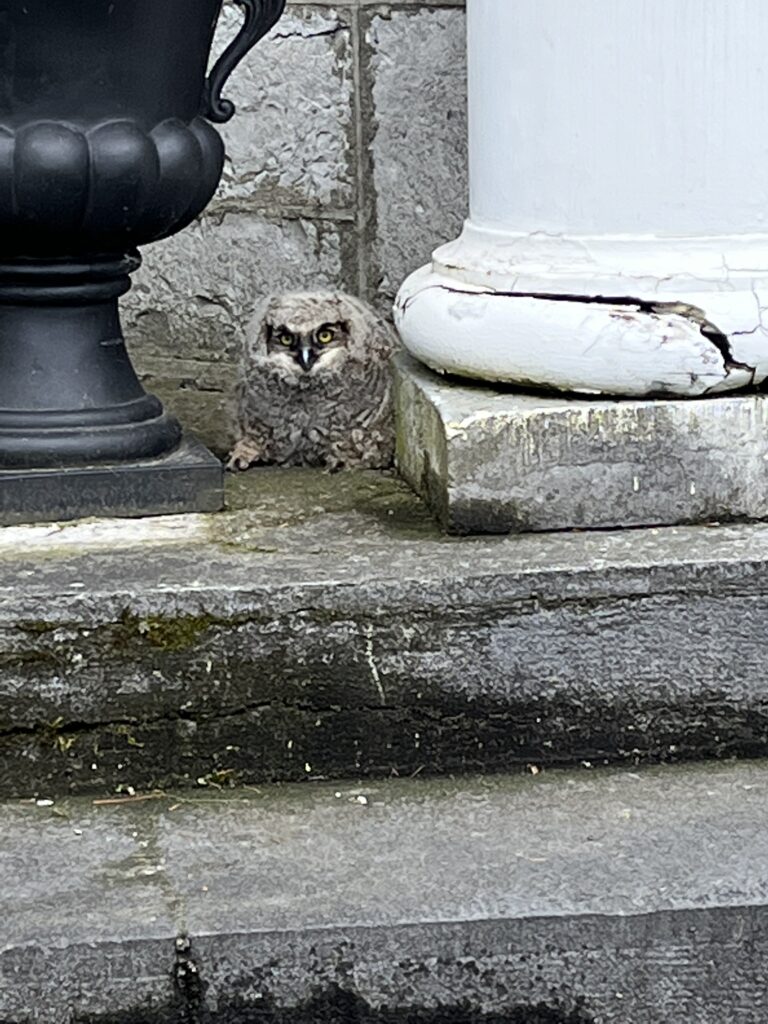 ---
Our Easter Egg Hunt was Very Successful! At least 100 people of all ages enjoyed our first annual Easter Egg Hunt. The weather was perfect! Thanks for coming and see you next year! Enjoy our video review! Easter Egg Hunt Video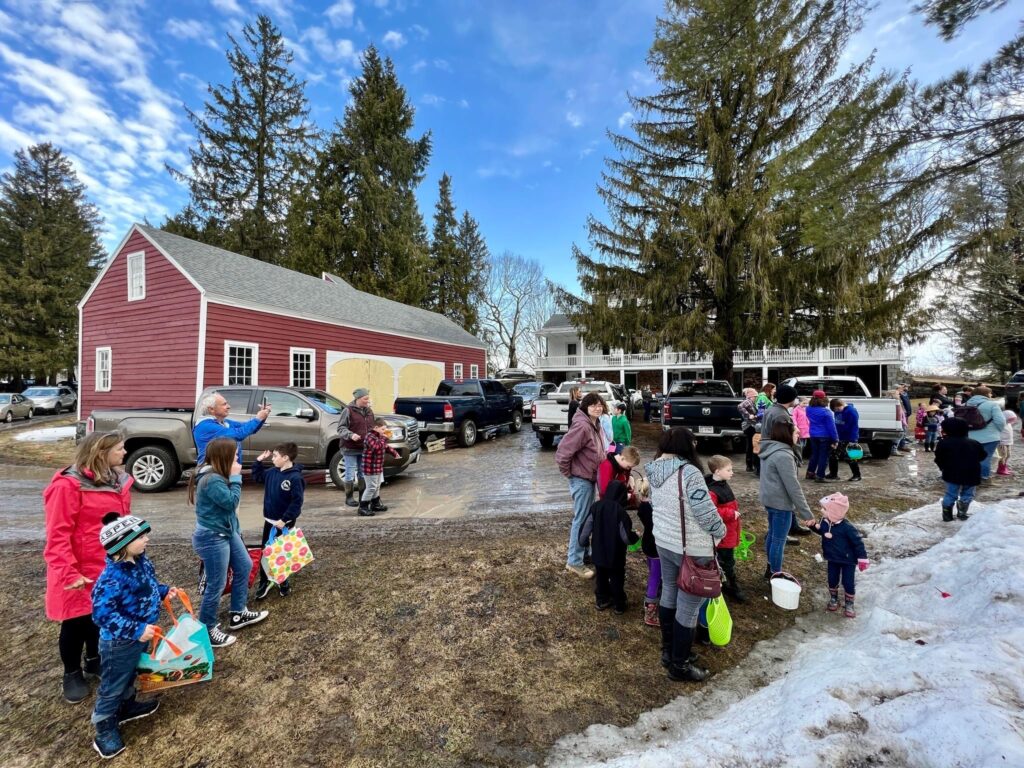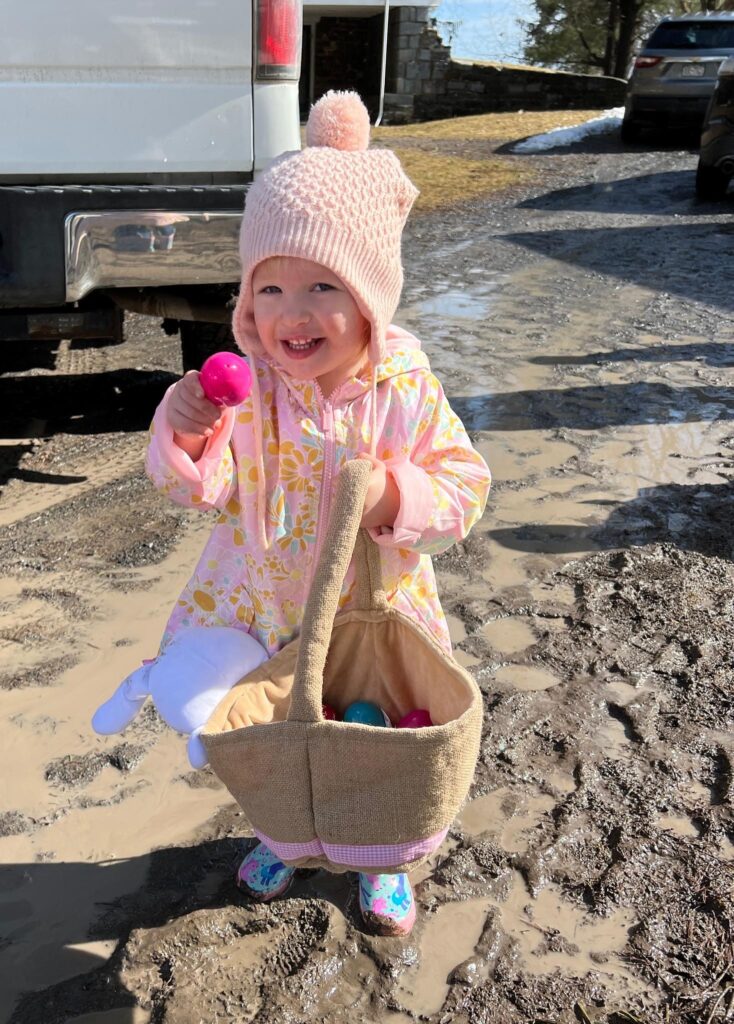 ---
Chess Tournament! Watch for details on a chess tournament being planned for our upcoming season. We are famous for our Clement C. Moore chess set (author of T'was the Night Before Christmas), so why not hold a chess tournament? Start practicing (or learning) now for a children's and adult tournament this coming season!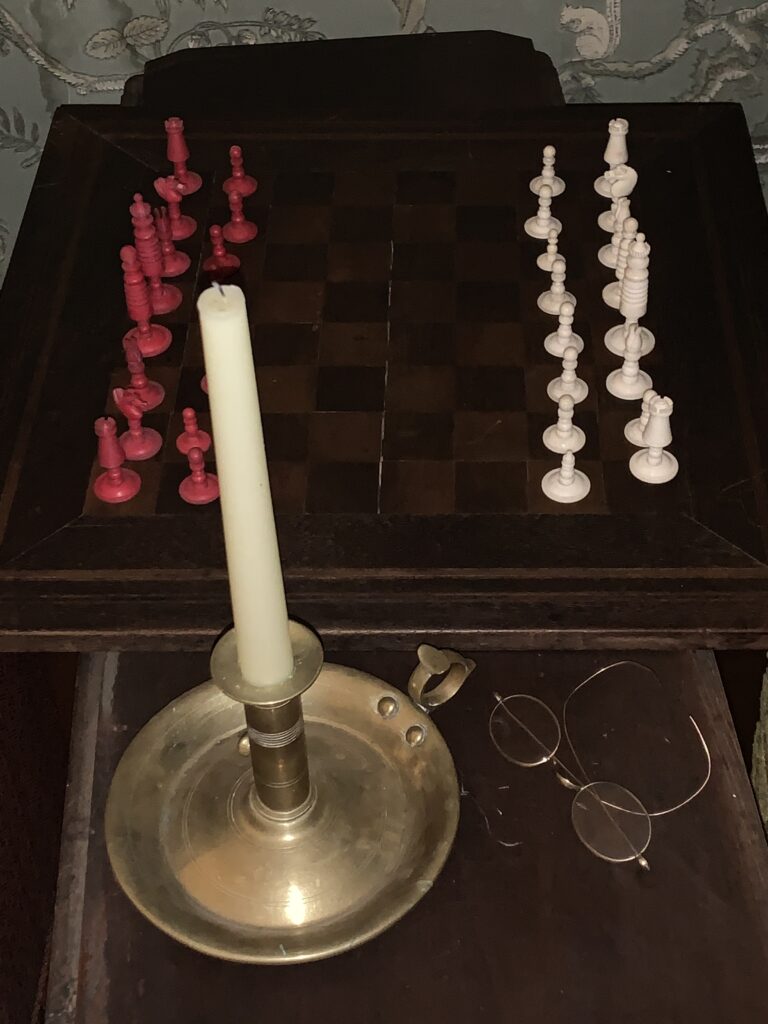 ---
Build or Paint a Birdhouse! Our birdhouses are in need of some TLC and we would like to encourage families, 4H groups, Scouts or ANYBODY that is interested, to build a birdhouse to be displayed on the grounds next season. If building one isn't feasible, purchase one and repaint it to look like an old or historical building. (Maybe an old church, school, log cabin or stone house or mansion?) They are part of our outdoor Scavenger Hunt, so we would love to have some fun ones on the trail. There are lots of resources online to help guide you and feel free to contact us, for color and/or size recommendations if needed. It's a great family activity!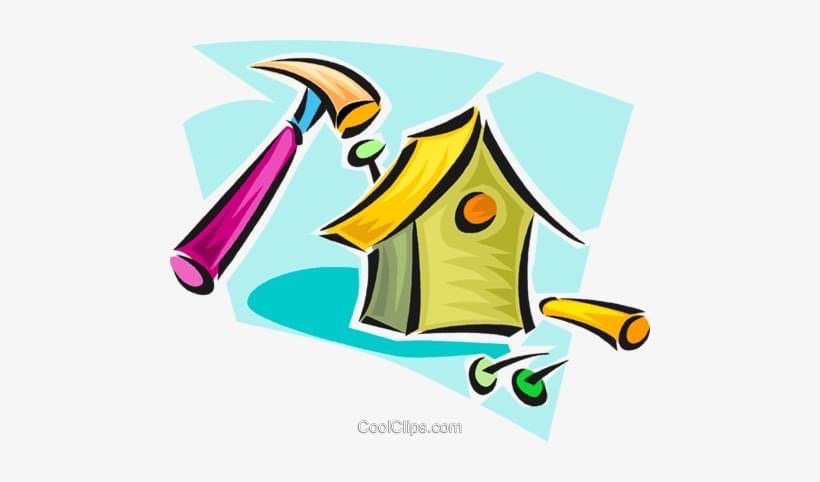 ---
Constableville Winter Festival!
The Constable Hall Association will be providing s'mores at the Constableville Winter Festival. Stop over and see us downtown on February 25th from 11-3:00! Lots of free fun, sleigh rides, skating, photography, food and more!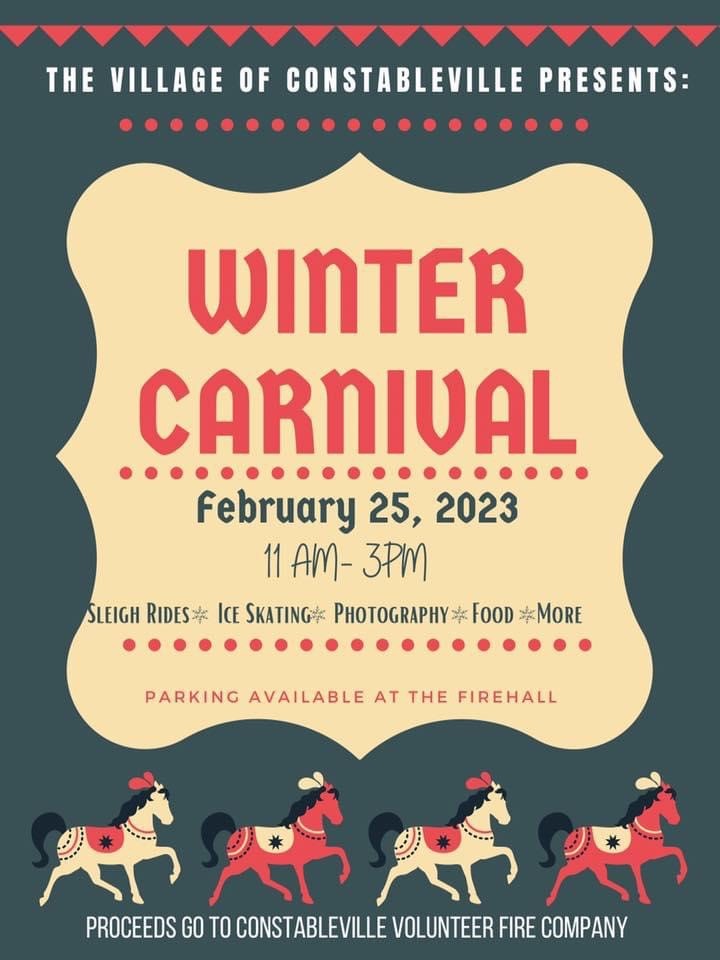 ---
Christmas Fun at the Hall!
We had a wonderful time Christmas caroling at the Hall with the Lowville Academy Select Chorus led by Elizabeth Zehr and a guest appearance from Matt Macaulay. Jane Jennings won our 200th Anniversary ornament. Thank you to everyone who came, and we'll see you again next year!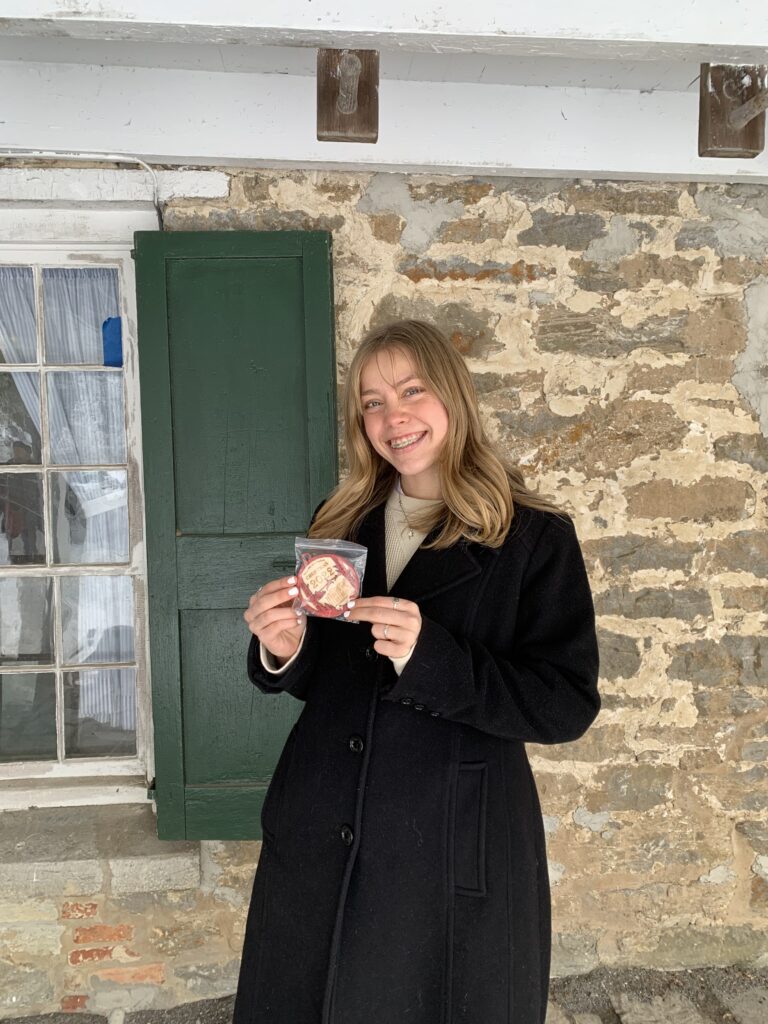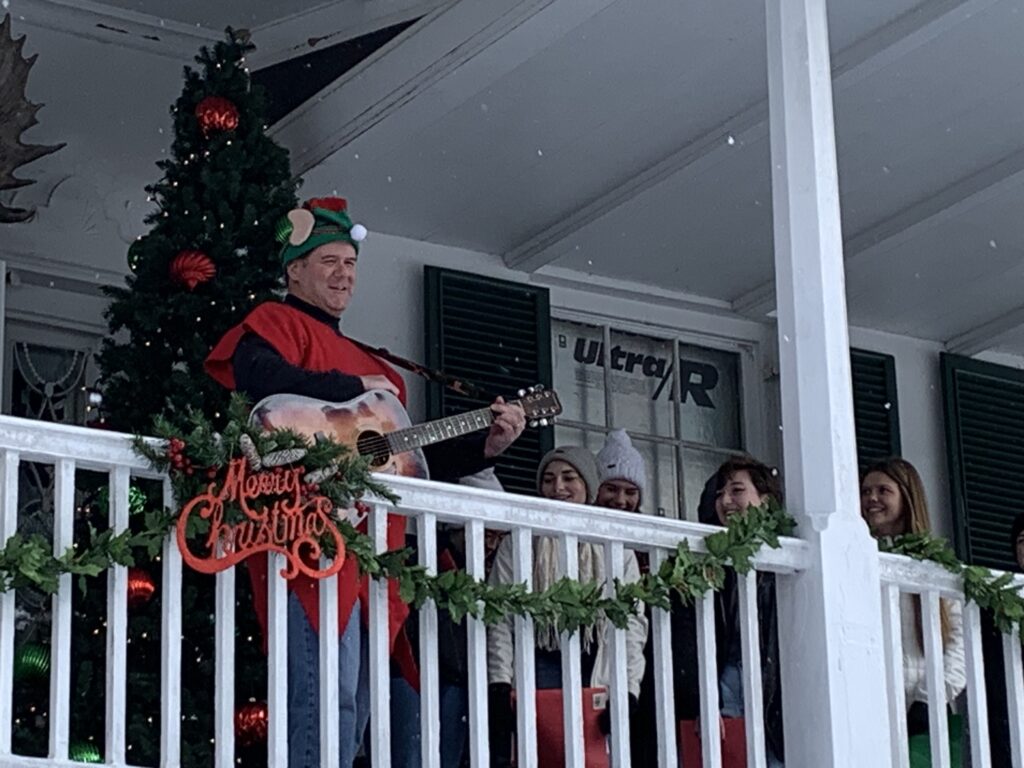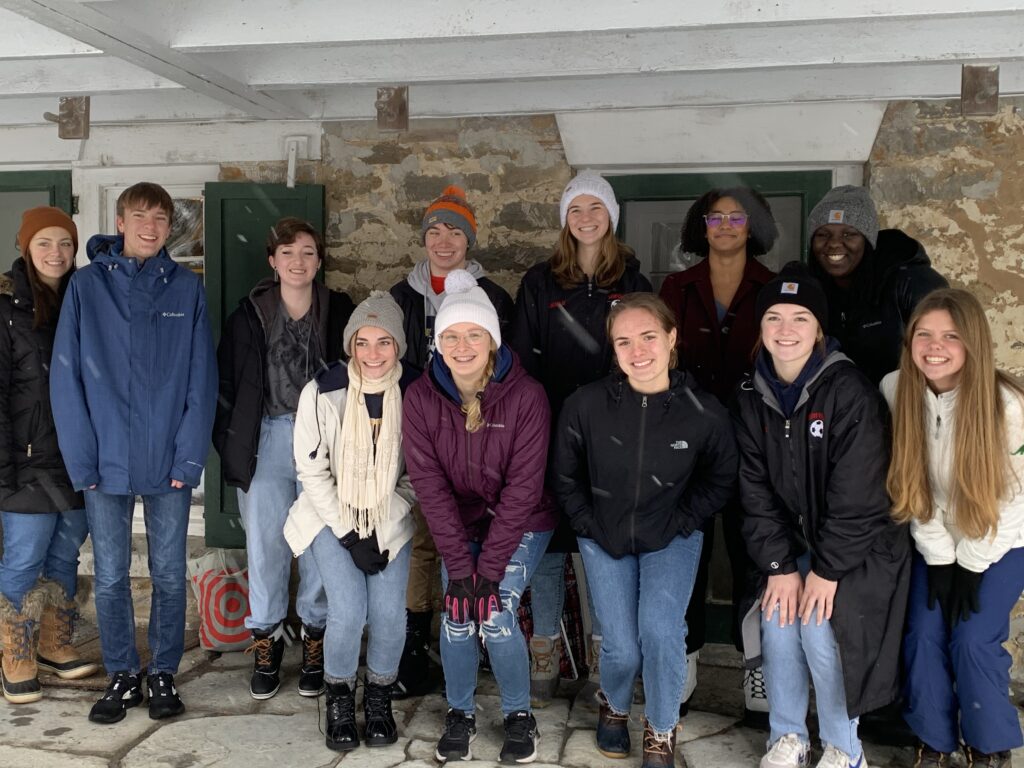 ---
We are thrilled to share this delightful painting of Constable Hall on Christmas Eve depicted by Gerald L. Putnam from Boonville. He is a retired United States Air force Officer and lives in the Schuyler Thompson house built in 1872. While researching Christmas history in our area, he happened across the story of Clement C. Moore's connection to the Hall and was inspired to paint his version of the event. Thank you very much for sharing your wonderful artwork!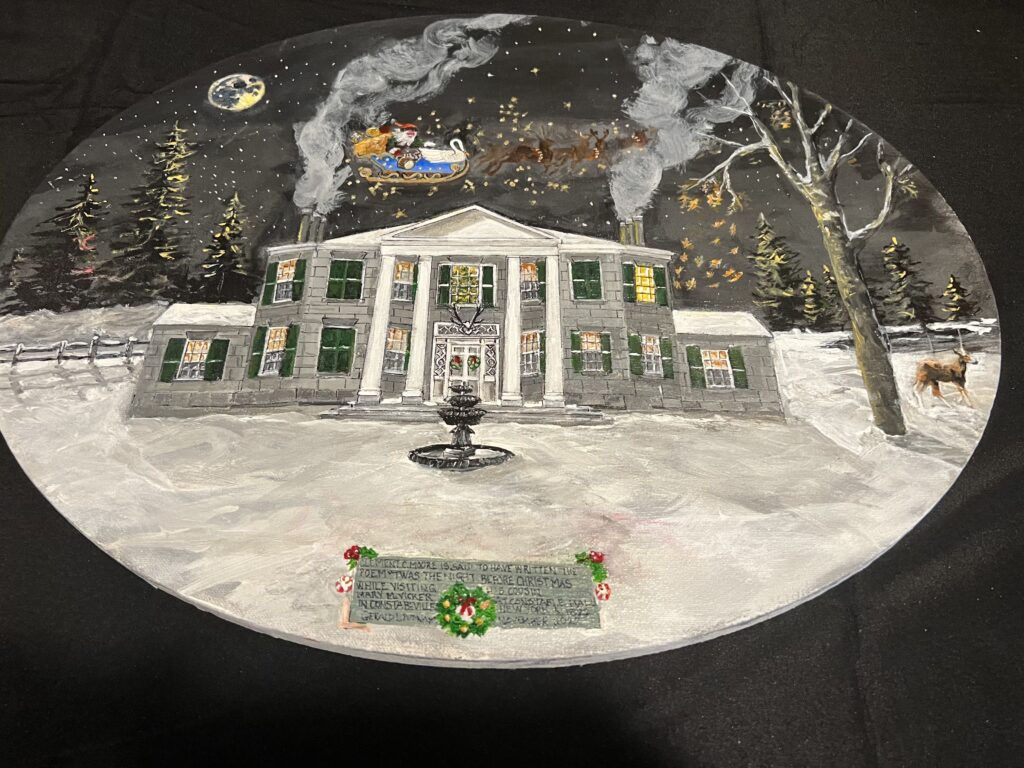 ---
The Hall will be available for outside Christmas photos!
We are working on lighting the Hall for Christmas. We have several trees that will be lit and candles in the windows! People are encouraged to come and enjoy the holiday season with us. The hall will be lit up for outside photos on December 17th from 5 to 7:00. The front portico will look especially nice for photos. If you aren't able to make it for the "candle-lit" time, there are still lots of great shots at night and during the day. We would love to see your photos, please send them to @constablehall through Facebook. Don't forget to join us for our Christmas Caroling Event on Saturday, December 17th at 1:00!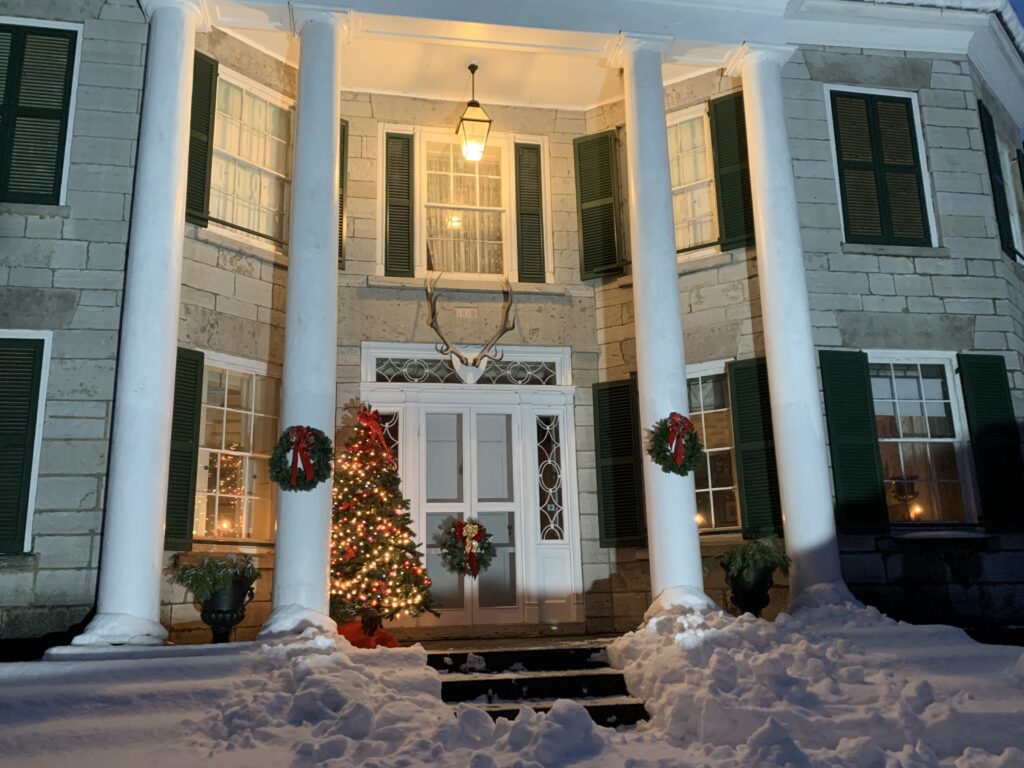 ---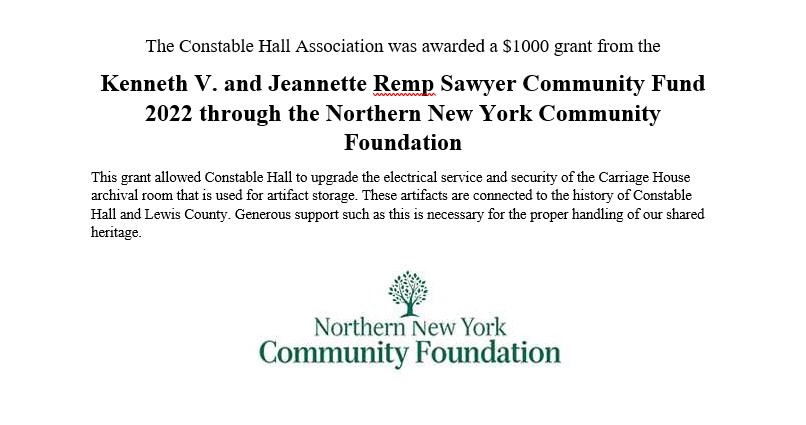 ---
Welcome to our new Board Members!
We would like to wish a very warm welcome to our two new trustees, Joan Pominville and Joseph Pfeiffer. Thanks for joining us, we are happy to have you!
---
Enjoy our Halloween Video.....
We had some wonderful trick or treaters at the Hall! Thanks for the great turnout, see you next year!
---
Pamela McColl's visit was a great success. We are very grateful she started her National Book Tour with us at the Hall. Check out our summary video of her visit!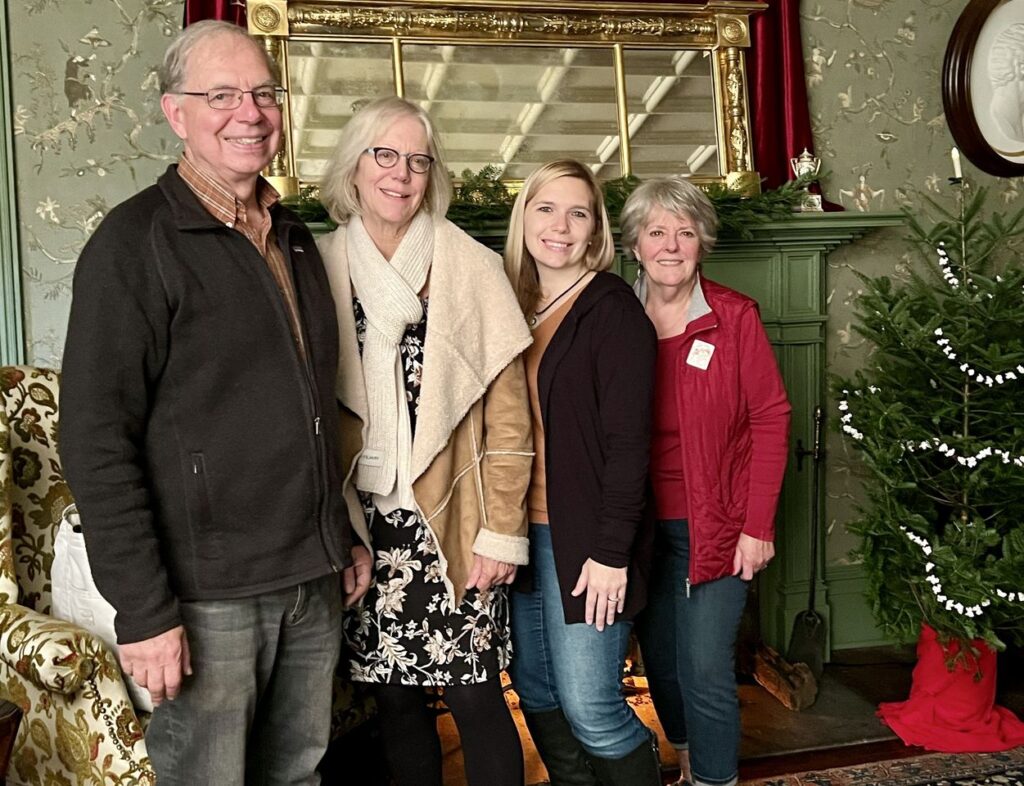 We had a wonderful time with Pamela McColl....
Our inside tour season is over. The last day of our indoor Hall tours was October 2nd. The grounds will still be available, come and see us while the leaves are peaked!
We are very thankful to all our members and visitors who helped us and attended during this past season. We were very happy to hold our annual Father's Day event again. The weather was perfect for our car show, craft fair, musical event and chicken barbecue. Please plan on joining us next year for one of our major fundraisers of the year.
The garden restoration project continues! Harry and Grace Rissetto visited again and continued their generous support with another $5000 donation. The main paths are graveled, irrigation has been installed and additional edging has been purchased to enclose the garden – hopefully to be installed sometime in the Fall.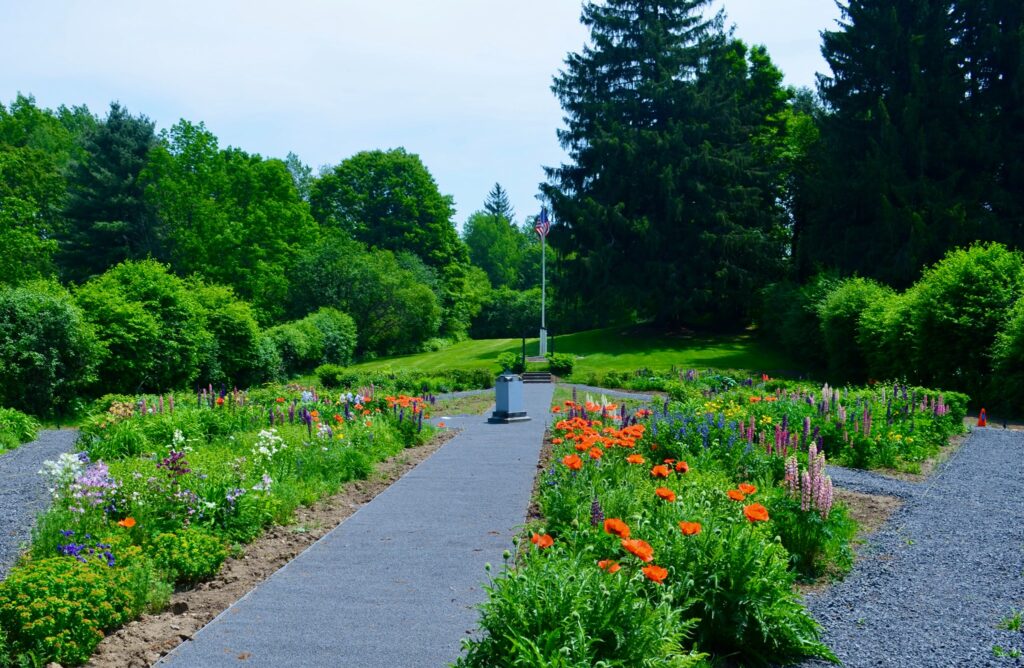 Bob Gipson has provided funds to clean out the deadwood and brush in front of the Hall to provide a better vista – as the Hall used to enjoy. We have started to do the same around the back side of the pond to add a walking path for visitors to enjoy. He also is supporting us to move the Gift Shop to the Carriage House temporarily. This will free up the room that will become the Oneida Room – a project that will continue next season. We are very grateful for his wonderful support!
Our Veterans Memorial Grove is almost complete. A monument will be arriving soon, and a nice pathway through the trees has been completed. We encourage visitors to come and enjoy our grounds!
---
Constable Hall Challenge Program
Join our Facebook Group, Constable Hall Challenge, and enjoy 10 fun family activities like the Constables would have participated in. It can be done virtually, in person, or both. You can email us for a brochure, or print it off our Facebook page. A few activities included are an outside scavenger hunt, Christmas activities, crafts, games and sports, etc!